When we decided to focus our agency on Mailchimp email marketing, we started getting a lot of the same questions. Many of these questions we hear several times a week from prospective and new clients. So we're giving you the deets today.
I'm going to try to answer these for you in the easiest and shortest way possible.
But these are truly four of the most frequently asked we get OFTEN.
1. What's the best time to send my email?
The answer: There is no perfect send time, except the time you determine after months of testing YOUR audience. Some experts will say Tues-Thurs at 10 am is the best and don't send on Mondays, but there truly isn't a perfect time and it's super important to utilize A/B testing to test different send times to see which time performed better.
In this awesome Guide from Hunter on the best times to send an email, they analyzed 9 prominent case studies and came up with some interesting data – like Fridays being the best for open rates.
And with the pandemic, optimal send times have changed a ton. In the past, Saturdays used to not be so great for sending an email, but now I find that everyone is home and relaxing and this can be a great send time. So it's important to test this over a period of weeks or months to see what works for your people. What works for an audience of realtors is going to be different than an audience of people who buy, say makeup.
2. Do I need to clean my email list?
The answer: Yes and no. "Cleaning your list" refers to removing or archiving any contacts that are no longer opening your emails or engaged. This is extremely important because it affects the deliverability of your emails. The cleaner your email list, the higher your open rates will be, which improves your sender reputation.
The good news is that Mailchimp helps you do this. Mailchimp automatically "cleans" emails that bounce. I still recommending periodically creating a segment of contacts that "have not opened" one of your last 10 or 20 emails – and then ARCHIVING them. OR creating a re-engagement email campaign to reach out to them and asking if they're still interested in hearing from you. Anyone that does NOT open that email– archive them (don't unsubscribe).
3. How do I grow my email list?
The answer: There are many ways, my friend. This is a long conversation, but this should always be one of your top priorities. Growing your email list is vital to having success with your email campaigns. So I always tell clients to focus on this before anything.
Here are some quick ways to start growing your email list:
Create a simple one-page PDF to use as a "freebie" or "lead magnet" and offer that people in exchange for signing up. You can offer through a popup on your website or creating a page on your site where people sign up. Create an automated email that sends to them, with the download, after they sign up.
Host a short webinar on a topic and ask people to sign up for it.
Post weekly on your social media channels about joining your list and the fun stuff they will receive if they subscribe (Ex: This Friday I am sending out the latest edition of my fun weekly email, full of the best email marketing tips…make sure you're on the list!)
Talk about your email list in everything you do. If you're on a podcast or speak on a webinar, remind me to subscribe to your list.
Post multiple opt-ins around your website. Your homepage should have several – a popup, a button at the top, and others weaved in.
There are many other ways, but start with these and it will grow quickly.
4. Do I need to use Tags or Groups or Segments?
The answer: Yes. Using Mailchimp's "Tags" or "Groups" and also creating "Segments" are some of the most powerful Mailchimp features you can utilize to personalize your email marketing and create campaigns that are sent to the right people at the right time. And I promise you, they're not as confusing as you may think.
Tags are used to simply tag your contacts internally. Think of it as a little contact note. Tags could be "local contact" or "contest entry" or "attended Feb webinar" or "Subscription-Active" and the list goes on. A tag is is powerful because you can create campaigns JUST for a specific tag of people and then send them an email campaign. Read more on getting started with Tags here.
A segment is something that you can create in Mailchimp or you can use one of Mailchimp's pre-built segments. Segments use data already in Mailchimp. For example, "did not open the last email campaign" would be a segment you can create. Or "Purchased an item in last month." Or "Email contains nike.com" or even "Location is United States." There are endless possibilities for segments you can create and they're incredibly useful when sending targeted email campaigns. More on segments here.
Lastly, "Groups." The important thing to note about "Groups" is that the contact can view these. You can set up a Group to ask your customer/contacts something like "Are you interested in:" "Emails only, webinar info, events, don't want any emails" Those would be 4 responses within 1 group. Groups are useful for gathering contact's interests. More here on getting started with Groups.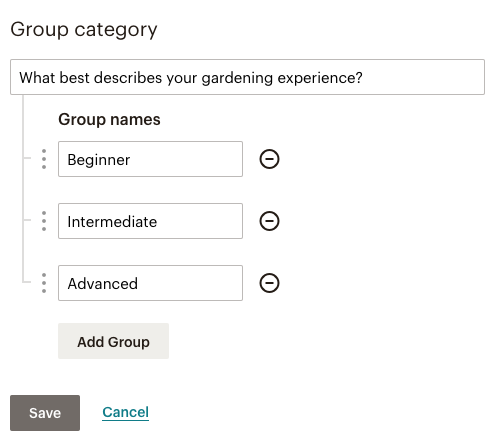 So while TAGS are something you do internally to tag a contact, a Group is something you setup so your contacts can choose. And a segment is what you create based on these tags and groups.
---
These are some quick answers to some of our most asked questions. Hope they were helpful!