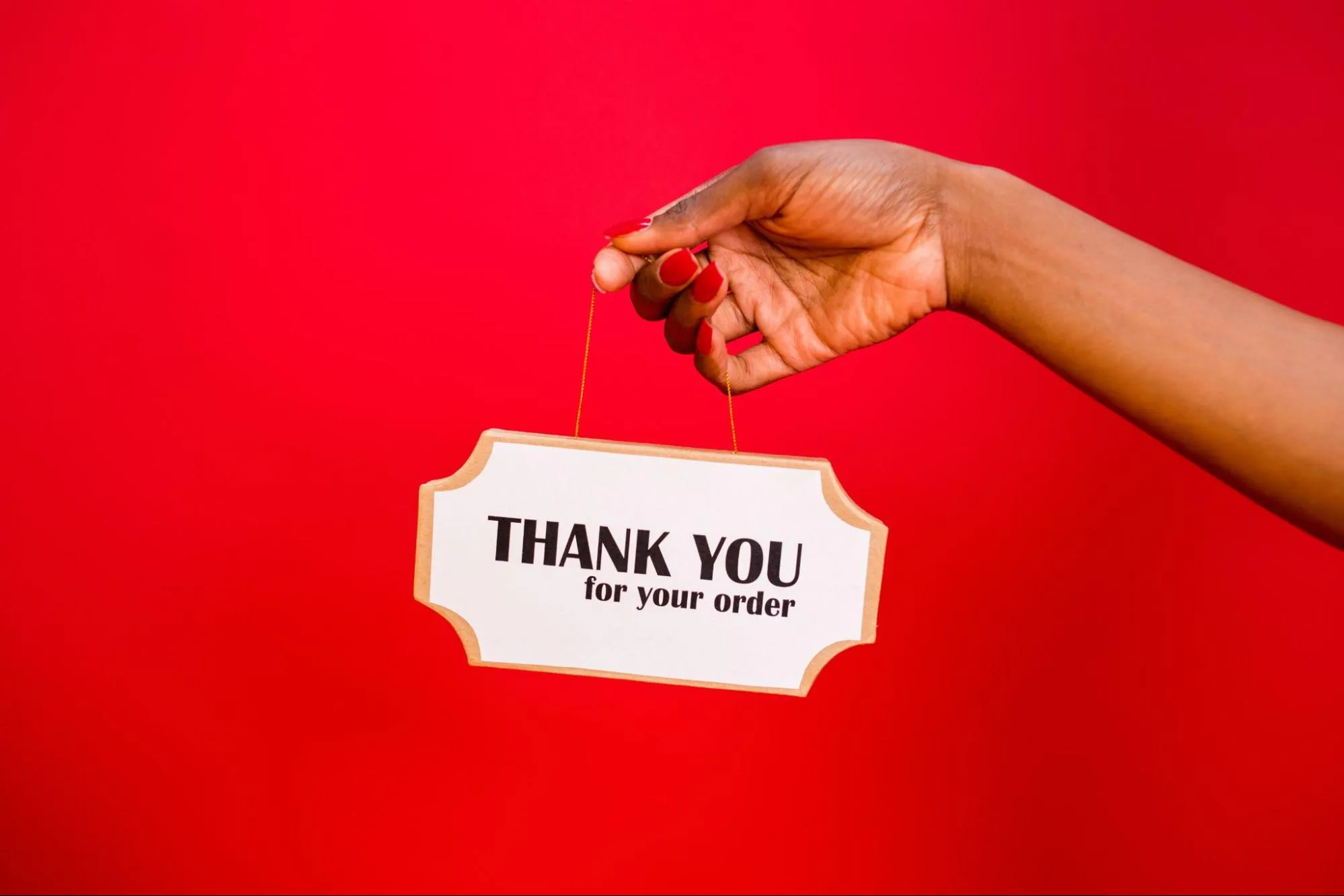 8 Best Practices for "Thank You for Your Purchase" Emails
Crafting the perfect "Thank you for your purchase" email can be a challenge. To help you navigate this, we've gathered eight best practices from founders, CEOs, and other marketing professionals. From personalizing your thank you email to offering incentives, discover the insights these experts have shared.
Personalize Your Thank You Email
Keep It Human
Send a Message from the CEO
Address Customer by Name and Purchase
Promote Further Action
Include a Feedback Survey
Highlight the Product Benefits
Offer Incentives
Personalize Your Thank You Email
Running a digital marketing agency has led to the realization that the key to a powerful "Thank you for your purchase" email lies in its personal touch.
A client once launched a line of artisanal teas. A buyer's comment about her love for chamomile tea during a previous interaction was remembered, and a thank-you email acknowledging her preference was crafted. "We hope this chamomile blend brings a touch of serenity to your evenings!"
This detail, though small, showed care beyond the transaction, making the communication more memorable. Experiences like this illustrate how tailoring messages can truly elevate customer engagement.
Ryan Steinolfson
Founder, Accelerate Marketing
---
Keep It Human
When thanking your customers, make sure that you keep it human, sincere, and, as much as possible, personalized.
Where possible, create segments for efficiency so you can send out a few versions of your email blast to different audiences. Explore, too, the features of your email tool, like including the recipient's name in the subject line or in the opening part of your message.
A thank-you note forms part of a customer's experience of their purchase and a channel for feedback. It is also the perfect opportunity for you to build and strengthen your relationship with them.
Tristan Harris
Demand Generation Senior Marketing Manager, Thrive Digital Marketing Agency
---
Send a Message from the CEO
Working with hundreds of e-commerce brands has shown that a best practice when crafting a "Thank you for your purchase" message to customers is to send an automated, yet personalized, message from the founder or CEO.
This can be achieved by creating a secondary sending address from the founder or CEO and creating the message as plain text instead of a typical graphical marketing message. This approach gives the customer the impression that the founder or CEO took the time to send them a one-off message thanking them for their purchase.
Steve Dinelli
Founder, MarketerInterview.com
---
Address Customer by Name and Purchase
Addressing the customer by name and mentioning the specific product or service they purchased is important. Tailoring the language to their specific interests is also beneficial. For instance, if the customer is a frequent buyer of the products, this could be mentioned.
Also, try to be timely, clear and concise, and informative.
Brenton Thomas
CEO, Twibi
---
Promote Further Action
You can even use your thank-you emails to promote further action. All you need to do is insert a call-to-action button that invites a customer to participate in further engagement. You can ask them to check out more products or leave a review for the ones they've purchased.
The CTA can even lead them to your blog posts, sign up for your newsletter, or enable them to follow your social media channels. This email is an opportunity for you to encourage further engagement, and a call-to-action button is the best way to persuade your customers to act.
Ariav Cohen
VP of Marketing and Sales, Proprep
---
Include a Feedback Survey
This is an excellent opportunity to provide a feedback survey so that you can get a feel for your customers' experience with things like checking out, pricing, and navigating your website. When analyzing how your customers have responded to your feedback survey, you can recognize what they like as well as what improvements need to be made.
Miles Beckett
Co-Founder and CEO, Flossy
---
Highlight the Product Benefits
Understand the importance of choosing the right [product/service] to meet your needs efficiently. It's crucial to comprehend all the amazing advantages the new [product/service name] provides. [Explain the top 2-3 characteristics or benefits in detail]. It's believed that it will surpass your expectations.
Cindi Keller
Communications Coordinator, The Criminal Defense Firm
---
Offer Incentives
A best practice when crafting a "thank you for your purchase" message to customers includes an incentive or special offer that rewards them for their loyalty.
One example of this could be providing them with a discount code to offer free online shipping on their next order. This is effective as it encourages customers to re-engage with your business, thereby improving customer retention and satisfaction. Additionally, it may also prompt additional purchases from returning customers due to the exclusive nature of the offer.
Julia Kelly
Managing Partner, Rigits
---
Submit Your Answer
Would you like to submit an alternate answer to the question, "What is one best practice when crafting a "Thank you for your purchase" email to customers?"
Related Articles