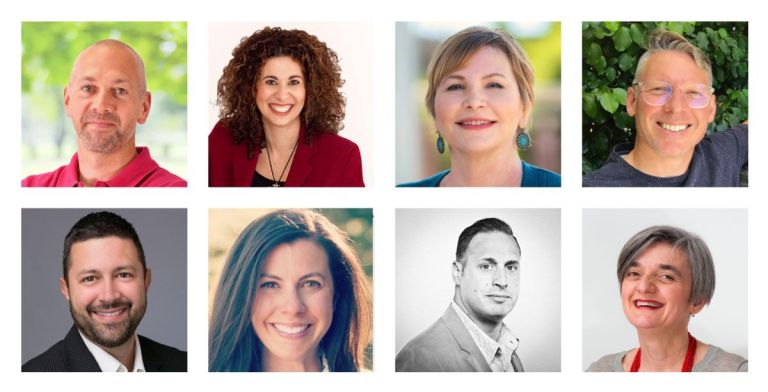 Here, 8 Mailchimp partners and email marketing experts share their top tips on where to look for email design inspiration. From other websites to social media accounts, there are so many places you can look to inspire your next campaign.
---
Really Good Emails, obviously. Also sites like Mailcharts where you can monitor your competitor's email campaigns to develop your own strategy is super useful.
Doug Dennison
CEO & Co-founder
---
I read a lot, not necessarily things linked to the topics I have to write in my emails. Inspiration and creativity come by opening your vision, not navel-gazing. Literature, movies, a good tv series, the occasional chat with a stranger: you have to collect a lot in the divergent phase of your thinking before converging to the best solution.

Alessandra Farabegoli
Digital Strategist, Co-Founder
Digital Update and Freelancecamp Italia
---
No particular websites. It depends on the message and topics. They are my search results and I always try to approach the topic from a different perspective. By browsing shutterstock or Adobe Stock I get my visual inspirations.

Nick Beuzekamp
CEO and Founder
---
I look for businesses I think are at the top of their game and sign up to their emails. I look at emails we're sending for other clients. The Mailchimp gallery. Unsplash for images. Reading articles, books, in client meetings and the intersections of ideas to see whether there's something useful there.

Glenn Edley
Director & Email Strategist
---
In addition to sites like Really Good Emails, I attend webinars from leaders like Mailchimp, Litmus and Hubspot regularly, where I find inspiration from the speakers and their company emails. Often, I'll subscribe to the emails for any organizations featured in a webinar presentation, and save the best of them in my own email folder for email ideas.

MaryAnn Pfeiffer
Digital Marketing Strategist
---
I sign up for a lot of newsletters, so I go to my inbox! Every time I hear a newsletter suggested by someone I go sign up for it! I have a "special" inbox just for my newsletters.

Amy Hall
Email Marketing Strategist and Certified Mailchimp Partner and Consultant
---
One of the best things you can do is to simply look at your current, personal email inbox. What lands in spam? What emails do you stop to read? What subject lines jump out? I look right at my own Inbox often for inspiration. I also love Really Good Emails, Litmus, Buffer and following a lot of #emailgeeks on Twitter.

Emily Ryan
Co-Founder and Email Strategist
---
Multiple places, but usually my best ideas come from my inbox. If something catches my attention I will try to test that tactic in my campaigns. I also frequently find inspiration from industry blogs, the email community, and Really Good Emails is a great resource to see the latest email trends.

Adam Q. Holden-Bache
Director of Email Marketing
---
Lastly, if you're interested in learning more from Mailchimp Experts, click here to check out the Mailchimp Experts Directory.