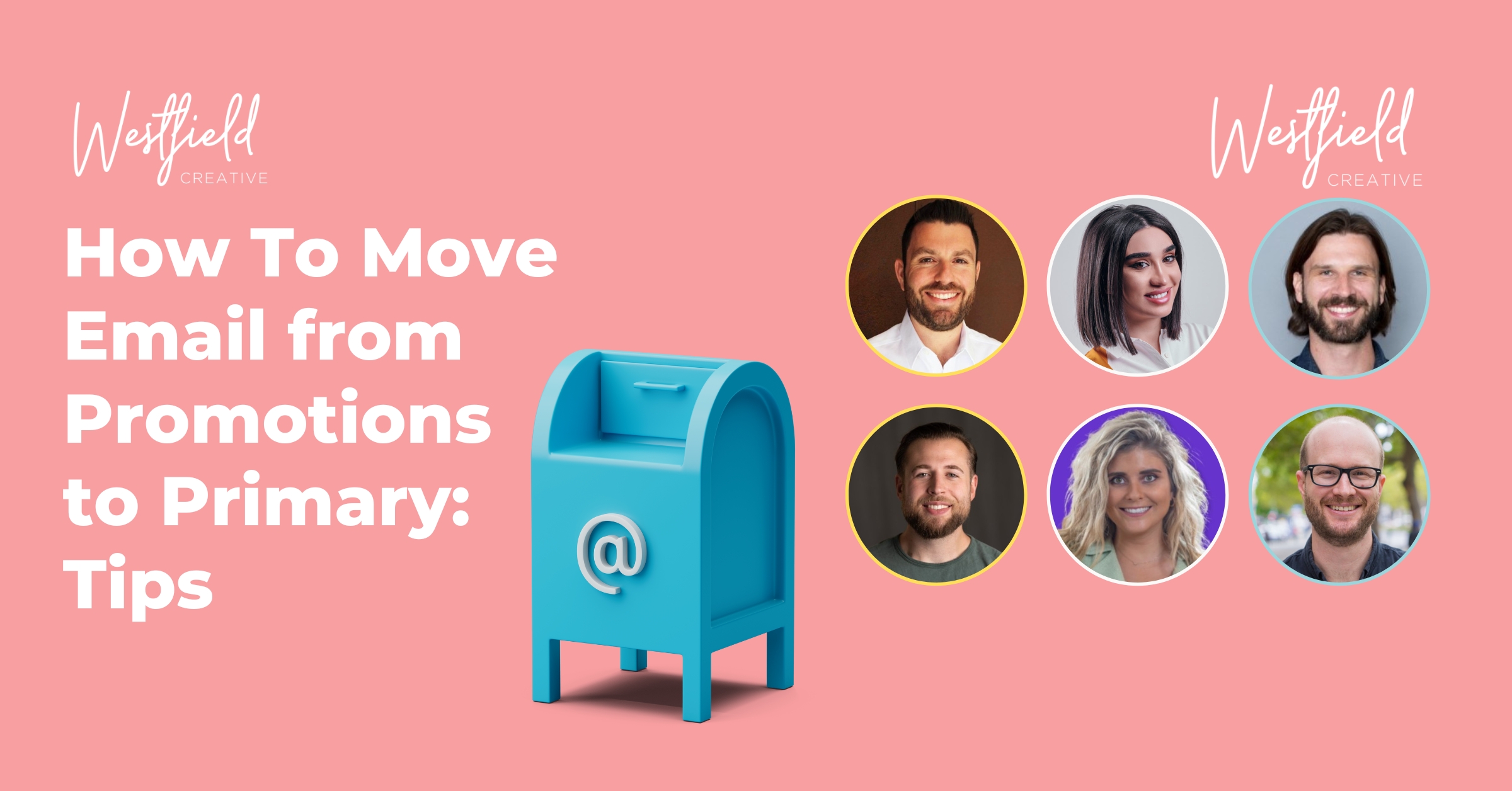 How can an email marketer help move an email from Promotions to Primary?
To help you move your company's emails into the spotlight, we asked CEOs, founders, and other business leaders familiar with email marketing this question for their best recommendations. From audience segmenting to using A/B testing, there are several ideas that can improve your email content so much, it will excite your customers to receive each one.

Here are 15 tips for creating emails that jump from Promotions to Primary:
Segment Your Audience
Ask Subscribers to Add Your Email to their Contact List
Craft Clever Subject Lines
Concentrate On Your Footers
Include a Clear and Concise Call-to-action (CTA)
Ask Subscribers to Reply to Your Welcome Email
Change MX Records to Google's Servers
Avoid Promotional Words & Learn Timing
Be Careful About Using Mails Sent Via RSS
Sound Human & Helpful
Avoid Heavy HTML and Send Emails Manually
Optimize for Mobile
Deliver More Than a Voucher or Sale
Use Minimal Images and Links
Rely on the Data From A/B Testing
Segment Your Audience
We widely understand that marketers can't outsmart Google but must work with their algorithms. Therefore, segmenting lists to identify engaged audiences can help move your email from Promotions to Primary.
Having your email land in the Promotions tab is often the result of trying to cast too wide a net, but brands can leverage data to optimize their content to help their emails stand out.

Through segmenting your engaged audience, you can more effectively optimize and personalize your emails. In addition, this process also allows you to create the appropriate content that has clear ideas and actionable information that can help reclassify your email.
By leveraging your data to segment your audiences and send them more interesting content, you can reduce the chances of getting buried in the Promotions tab.
Greg Gillman, Chief Revenue Officer, MuteSix
Ask Subscribers to Add Your Email to their Contact List
If you want to ensure your newsletter winds up in your subscribers' primary inboxes rather than their promotions inboxes, one way to do so is by asking them to add your company to their email contacts list.
Doing this will make your messages seem more familiar to them and, therefore, less likely to be treated as spam.
In addition, it's essential to ensure that each email you send includes accurate contact information and a straightforward way for recipients to unsubscribe.
Finally, send consistently high-quality content your subscribers will look forward to receiving to keep them engaged with your brand.
Michael Sena, Founder & CEO, SENACEA
Craft Clever Subject Lines
Many times, it's an email's subject line that determines its fate in our inbox. Will we move it to the trash, mark it as spam or even unsubscribe?
Subject lines have the power to move people to take such actions, so be sure to entice readers in with a subject line that makes them want to not only know more but receive future communications from your brand.
Jae Pak, MD, Jae Pak MD Medical
Concentrate On Your Footers
It is easy to get focused on the body of your email when you are trying to avoid it being sent to the promotions tab, but it is just as important that you concentrate on your footers and declutter them if you want to get into the Primary tab.
You have done everything to avoid having your email sent to the Promotions tab, from refraining from sending out blasts to specifying personalization. However, Google algorithms can still pick up a footer that contains a disclaimer and many business references.

Therefore, by decluttering your email footers, removing words that may trigger Google algorithms, and getting rid of your disclaimers, terms, and conditions, you can better your chances that your email will end up in the Primary tab.
By paying as much attention to your email footer as you do the main body, you can avoid the Promotions label and better reach your customer.
Matt Miller, Founder & CEO, Embroker
Include a Clear and Concise Call-to-action (CTA)
One thing an email marketer can do to help move an email from Promotions to Primary is to include a clear and concise call-to-action (CTA).
This could be something as simple as a button that says "Open Now" or "Read Later." Including a CTA will help to motivate the recipient to take action and move the email from Promotions to Primary.
Aviad Faruz, CEO, FARUZO New York
Ask Subscribers to Reply to Your Welcome Email
These kinds of responses will often move the email thread to the primary tab and train Gmail that your emails deserve to be in the Primary tab.
Responses can be entirely up to you. Ask for an emoji response, ask them to tell you about themselves, answer a question, or what they're trying to achieve with your product.
Corey Haines, Founder, SwipeWell
Change MX Records to Google's Servers
Over the past 5 years, I've been massively focused on sending outreach emails, and I've found it increasingly difficult to reach users' inboxes from my email servers, especially my company domain email.

I have learnt the hard way that it's all about maintaining an excellent reputation with large email providers, not just Gmail.

As much as people focus on emoticons, subject lines, and other tactics, simply put, immerse yourself into the technical aspect of emails such as MX records.

The game-changer for us as a company is switching our domain name servers from Namecheap to Google's Workspace service servers.

This switch to Gmail's servers has played a huge role in improving the deliverability of emails. The open rate is another discussion entirely.
Brett Downes, Founder, Haro Helpers
Avoid Promotional Words & Learn Timing
Nowadays, email inboxes are flooded with promotions. As an SEO agency, our experience showed how we write our emails will determine whether it ends up on the promotional tab.
The following phrases make your letter end up in the "unfortunate" tab, so you should avoid including these in your email: "now," "buy," "click here," "register," "free," "offers," "as seen on," "money," "avoid," "Friend," and "Hello."
It decreases the possibility of your email being marked as a promotion. But it doesn't stop there. Be creative and avoid just selling your products to clients; instead, describe the benefits of your products and work on exciting consumers' interest.
Email timing is also vital; the better email timing you have, the more likely it is to have a higher open rate, resulting in a higher response rate.
I've practiced this for a long time, and I assure you this will help improve your response and conversion rates.
Maria Harutyunyan, Head of SEO, Loopex Digital
Be Careful About Using Mails Sent Via RSS
RSS (really simple syndication) is XML-formatted text used for distributing web blogs, news, and content. Using it in the mailing is also a good option to get your stuff to the readers instantly.
But still, a problem arises that these particles tend to generate practically identical emails. This automatically increases the risk of indicating as promotional. So again, don't forget to personalize your email to avoid anything suspicious.
Andrew Priobrazhenskyi, CEO & Director, Discount Reactor
Sound Human & Helpful
Gmail Algorithms are quite efficient in identifying those bulk emails which you send via a service provider. Be mindful to send such emails in fewer bulks rather than just going on with the entire list. Adding a touch of personalization confuses the algorithm witnessing those human-like email structures!

There isn't any single thing that might end your emails in the primary box, trial and error do. The number of images and links, and their nature essentially determines your email's pathway. For instance, if you add sales CTA's and a lot of product images, you won't ever end up in a primary box.

Since these are the most commonly used by email marketers, Gmail knows it all. Also, figure out a unique way so that the recipient marks you in their whitelist.
For instance, have them sign up for regular blog posts and newsletters with valuable content. I'd even suggest using your own personal email (xyz@companyname.com) instead of those generic business emails (info@companyname.com).
Hardy Selo, Property & Digital Marketing Expert, Property Guru
Avoid Heavy HTML and Send Emails Manually
Well-crafted HTML emails never make it to the main tab because Gmail considers these emails to be automated, i.e., sent by the robot.
Gmail's algorithms try to determine whether a human or a bot sent an email. They always mark heavy HTML emails as automatic. This error occurs when you use an email marketing tool to draft emails instead of typing them manually into an email client.
The best way to avoid this is to send plain text emails, or at least "lightweight HTML emails". Lightweight HTML is technically HTML (Mime type), but the content is mostly text without images, CSS, and minimal links. It's important to keep links to a minimum, ideally only one or two.
Léa Soller, CEO, Digiberries Paris
Optimize for Mobile
Making emails more mobile-friendly is a simple way to get them out of promotions and into primary.
Most people check their emails through their cell phones and, more often than not, the settings are more advanced by default. By making emails sleeker for mobile and more universally compatible across account types, the advanced filters will give them the highest priority.
Lyudmyla Dobrynina, Head of Marketing, Optimeal
Deliver More Than a Voucher or Sale
Treat your customers like people; send an email that's more than a voucher. Offer insights, updates, a story, something that's more content than promotion. It could be knowledge or a tip, or just something happening in your field or industry. Surprise them for their loyalty, rather than emailing for the nth time with a subject line that there is a voucher on offer or a sale.
Tristan Rayner, Tech Analyst
Use Minimal Images and Links
Do not overcrowd your marketing emails with images and links. This will make your email seem too sales-y to go into the Primary tab.
Of course, you will need some images and some links, but when reviewing your marketing emails, try to eliminate as many of them as you can while still making your emails engaging enough to your subscribers.
Nancy Eichler, Senior Vice President of Marketing & eCommerce, iwi life
Rely on the Data From A/B Testing
Marketers always try their best to personalize emails.
To make sure that no mail is spammed as a promotional one, many alternatives are available for a marketer. But, one of the best of all is using A/B testing, also known as split testing.
These tests are a process where you see which two versions of variables are more impactful on the target market. The variables are shown to different segments of subscribers. Then analyze which version is the most impactful.
Tia Campbell, Director of Marketing, Practice Reasoning Tests