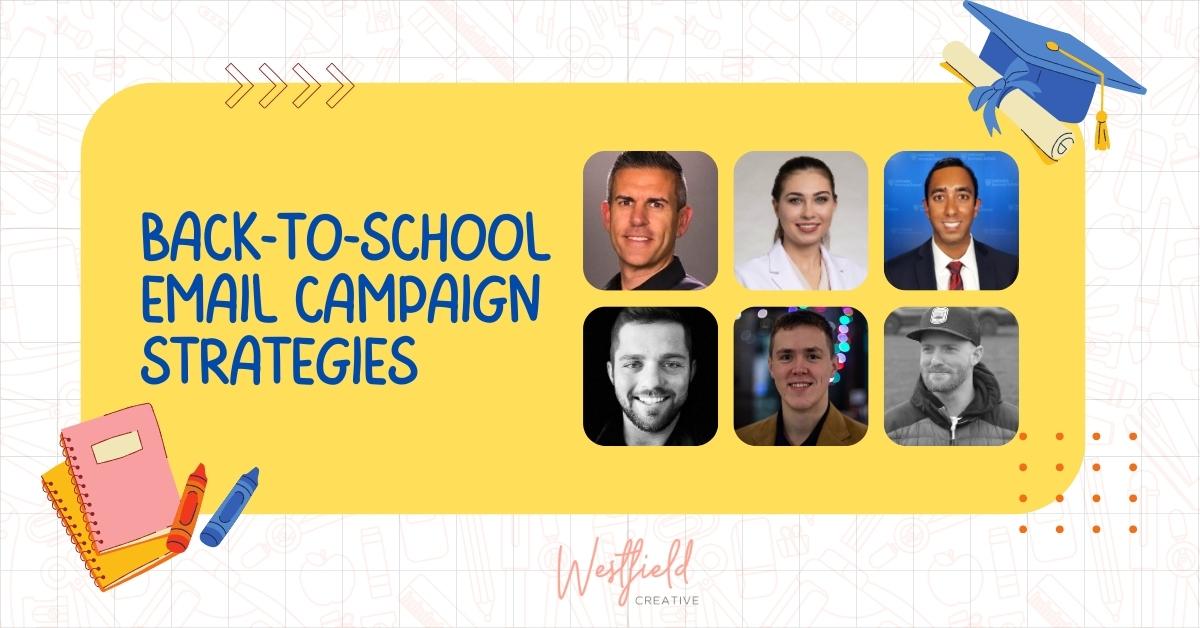 What are the best back-to-school email marketing campaign strategies?

To help you best target your back-to-school email marketing campaigns, we asked marketing professionals and business leaders this question for their best strategies. From making the campaign relevant for all ages to appealing to college students with contests, there are several strategies that may help your email campaigns win over customers to patronize your back-to-school offerings.

Here are eight back-to-school email campaign strategies:
Make The Campaign Relevant for All Ages
Entice With a Buy-One-Donate-One Offer
Highlight Relevant Self-Care Routines
Launch a Back-to-School Loyalty Program
Offer Exclusive Discounts and Coupons
Structure The Email Like a Class Schedule
Personalize Your Emails
Appeal to College Students With Contests
Make The Campaign Relevant for All Ages
Incorporate the back-to-school theme for everyone! Make the idea seem relevant for those no longer in school to avoid unwanted messages. For example, play with the wording by using the theme as a time for everyone to learn something new or take a refresher course. Try something like, "When the kids head back to school, choose a new hobby like yoga. Use this 20% off coupon to start learning today!"
Jeff Goodwin, Orgain
Entice With a Buy-One-Donate-One Offer
One of the best back-to-school marketing email campaigns is buy one, donate one. For every purchase a customer makes, donate one of the same items, or the monetary equivalent, to a charity that helps students in need. Those who want to make a difference will prefer to buy your product over another business. Additionally, the charitable donation and associated marketing will hugely boost brand awareness.
Kevin Callahan, Flatline Van Co.
Highlight Relevant Self-Care Routines
Self-care during the school year is so important. How are students supporting their mental and physical well-being after class, homework, and extracurricular activities? Brands can highlight self-care routines such as product recommendations or tactics that lower stress levels. This is a relevant and timely marketing campaign that puts the consumer first.
Natália Sadowski, Nourishing Biologicals
Launch a Back-to-School Loyalty Program
One solid back-to-school email marketing campaign strategy is launching a loyalty program. Alongside back-to-school sales, have your email newsletter offer students, parents, or teachers the chance to enroll in your customer loyalty program. Tell them all the reasons to keep coming back and why your program is the best. Go a step further and incorporate how it can help them achieve in the classroom too.
Sasha Ramani, MPOWER Financing
Offer Exclusive Discounts and Coupons
Many companies ramp up their marketing efforts during the back-to-school season, as parents and students alike are looking for great deals on everything from clothes to school supplies. However, with so many businesses vying for attention, it can be difficult to stand out from the crowd.
One way to make your company's email marketing campaign stand out is to offer exclusive discounts and coupons to subscribers. This will not only entice recipients to open your emails, but it will also encourage them to take advantage of your special offers. You can also segment your email list by school district or type of student (e.g., elementary, middle, or high school), which will allow you to customize your message and ensure that it is relevant to each recipient. By taking the time to craft a well-targeted and engaging email campaign, you can make sure that your business gets noticed by the right people during the busy back-to-school season.
Jim Campbell, Wizve – Digital & Affiliate Marketing Agency
Structure The Email Like a Class Schedule
We're firm believers in the equation that if you make emails fun, people will read them and scroll further. A great back-to-school example would be to structure your email in a way that reads like a class schedule. Start with "Period 1: Math", then offer your tips or product recommendations such as a calculator. Next, "Period 2: English", then offer the same such as a dictionary or writing utensils. You can even break out funny things like "lunch" or "recess" and feature a lunchbox or sport supplies. A big part of email marketing is being able to put your reader in the environment of what you're discussing and this is a clever way to do that.
Kelly Skelton, Fat Kid Deals
Personalize Your Emails
One tip is to personalize your emails. By including students' names in the subject lines of your emails, you can make them more likely to open the messages. Additionally, including students' names in the content of your emails can help create a more personal connection with your readers. This will result in more engaged readers, who are more likely to take action on the content you provide.
Karen Ebanks, Karan Real Estate
Appeal to College Students With Contests
Marketing to college students is a bit different from marketing to the parents of K-12 school children. In college, many students begin to become responsible for their own finances so they have a desire to save money as much as possible.
One way to appeal to this demographic is to include a contest in the newsletter. The contest could have a prize that would be highly desirable for college students such as a laptop or an Amazon gift card. The email can include a CTA asking people to share it on social media in order to generate more buzz around the contest, and therefore, more sales. It could be an essay contest or a drawing contest to give students the chance to showcase their creativity. Of course, the overall theme of the newsletter would be back-to-school, so it can also include fun trivia facts and reviews or insights from other college students. Ideally, the contest winner should be announced at least two weeks prior to when students return to the classroom.
Jibran Qazi, MCPD