What email platform do you use, and why?


To help you identify the email platforms that are most commonly used these days, we asked CEOs and business leaders this question for their best choices. From Zoho Mail to Gmail to Convertkit, there are several email platforms that you would find most professionals using these days to run their day-to-day business.

Here are 14 email platforms these leaders prefer to use for their business:
Mailchimp
Zoho Mail
Kartra
Sendinblue
Aweber
Gmail
Klaviyo
MailerLite
Hubspot
ProtonMail
Drip
Microsoft Outlook
ActiveCampaign
Convertkit
Mailchimp
Personally, my preferred email platform is Mailchimp. It's simple to use, but incredibly effective. It does what it needs to without fuss or unnecessary complications. It has different pricing options depending on your needs, and the free plan is surprisingly generous. For many people, this is enough.
Upgrading provides access to more sophisticated tools, including A/B testing, if required. The user interface is clear and comprehensible, and it's a straightforward process to track whether consumers are engaging with your content. Mailchimp makes it easy to identify which aspects of your email marketing strategy are successful, and where improvements are needed. It integrates effectively with other software platforms, and campaigns can be customized with ease.
The concise, consistent reporting helps me to optimize my outgoings. This is a perfect platform for small to medium businesses, freelancers, and those just getting acquainted with email platforms.
Mario Cacciottolo, PR & Branding Manager, SBO
Zoho Mail
Zoho Mail is a fantastic email service for freelancers and home-based businesses. I run a little business, and this email service is all I need. Zoho is a great tool for both professional and personal email. The Zoho migration tool makes the switch from Google Apps or Office 365 to Zoho Mail quick and painless. It's simple to sync with the rest of the Zoho suite.
Edward Mellett, Co-Founder, Wikijob
Kartra
I use Kartra for email marketing because it is a powerful and easy-to-use platform. With Kartra, I can automate my email marketing workflow by creating automated campaigns that are triggered when someone takes a certain action on my website. For example, if someone signs up for my newsletter, I can set up an automated campaign to send them an email with helpful content. This saves me a lot of time and ensures that my emails are sent out on a regular schedule, even when I am not able to spend time managing my email marketing campaigns.
Another feature that I find especially helpful is the built-in email split testing tool. This allows me to test different subject lines, content blocks and call to actions, so that I can optimize my email marketing campaigns to get better results. Overall, I love Kartra because it makes it easy for me to grow my business and reach more people with the power of email marketing.
Amira Irfan, Founder and CEO, A Self Guru
Sendinblue
I use Sendinblue because it's the best email platform out there, and I've found that it's intuitive and easy to use. I also love how customizable it is—it allows me to create a ton of different campaigns with different segments and audiences in each one which is super helpful when I'm trying to reach a specific audience with a certain message. It also comes with a lot of analytics and A/B testing tools for improving the performance of your campaigns. I get to see an overview of all my emails in one place, and then I can drill down into specific ones if I need to see more details or track things like clicks and opens.
Arkadiusz Terpilowski, Head of Growth & Co-founder, Primetric
Aweber
AWeber is the most suitable email platform for small businesses, which has been assisting our business for the last four years to manage our email marketing tasks. It offers various ready-to-use email templates, email tracking, auto-responding, and many other useful features. Other features of AWeber are also effective for email marketing, such as list management, automatic RSS-to-email, and subscriber segmentation. The subscription cost of this software-based platform is also affordable, pricing starts from just $19 per month.
Karen Cate Agustin, Business Analyst, Investors Club
Gmail
Gmail has become a staple for my everyday personal and business use for almost two decades. Since 2004 and have never had any issues with this platform. I have enjoyed the advancement of the added features such as Google Meets and Calendar. These features have helped me stay organized and made attending and creating meetings for work or personal occasions easier. Another bonus, I receive less spam because I stay on top of my account and consistently keep it up-to-date and refreshed.
Benjamin Earley, CEO, HOLT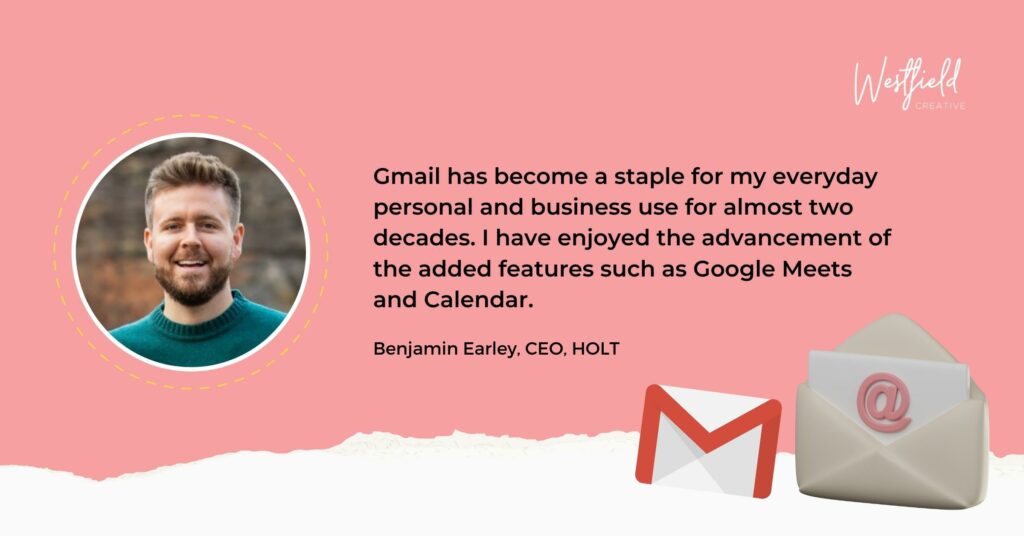 Klaviyo
For all of our Ecommerce projects we exclusively use Klaviyo for email marketing. It is one of the most advanced email platforms that's built specifically for Ecommerce and Shopify, so it offers the deepest integrations and allows us to create highly segmented campaigns. All of this means we can email customers with messaging and promotions which are personalized to each user.
Another great thing about Klaviyo is that it allows our brands to run both email and SMS marketing from one platform, with a single monthly fee. This is helpful for running cross-channel promotions where we need to deliver a similar message via both and SMS simultaneously.

Ryan Turner, Founder, EcommerceIntelligence.com
MailerLite
I find that MailerLite's drag-and-drop UI makes it really simple to construct the exact layout I want for my email campaigns. The goal of the company is simplicity, thus the interface is uncluttered and easy to use. If you're looking for the most user-friendly platform, go no further than MailerLite. Email help is available for queries and troubleshooting if users run into any issues.
MailerLite has all the fundamentals of email marketing built in without overwhelming the user with unnecessary bells and whistles. It's ideal for companies that want an email marketing strategy they can learn in a matter of days, not months.
Nely Mihaylova, The Content Editor, UNAGI Scooters
Hubspot
Hubspot is the ideal all-in-one marketing suite since it includes amazing tools and reporting for all of your marketing efforts across channels (website, social, email marketing, and more). With Hubspot's customer relationship management system, you can keep track of all of your contacts and use tools like online lead forms, live chat, and advertising to build a clientele. Email marketing is just one of Hubspot's customer relationship management (CRM) offerings. This is the best all-around marketing platform because it can manage your email, social media, and blog content.
With Hubspot, you can monitor the performance of your online advertising campaigns, social media campaigns, email campaigns, and website analytics in one convenient location. The platform also comes with an in-depth training platform that not only goes over the basics of using the system but also highlights best practices for running effective marketing campaigns.
Tiffany Payne, Chief Marketing Officer, iFlooded Restoration
ProtonMail
ProtonMail is my email platform of choice because it's secure, private, and user-friendly. I love that it allows me to send and receive messages without ever having to compromise security. I love that I can control what information is shared with whom, and that my data is always protected. It also offers some great features that make it easy to organize and store my emails in one place.
Graham Byers, Founder, Bestchoiceforseniors
Drip
With its comprehensive workflows and advanced list segmentation, Drip is, in my opinion, the greatest email marketing software for e-commerce enterprises. Together, these features allow you to send customers timely follow-ups based on how they interact with your emails and send customers tailored emails based on their shopping habits on your site.
Drip is the greatest eCommerce email marketing software since it was made with the user's experience in mind. If you run into trouble while establishing the service or while using it, you can contact the service's user support for assistance. Your ability to divide up your lists into several categories will help you provide the best possible service to your customers through your website and email notifications, which is something we really appreciate.
Daniel Foley, Founder, Assertive Media
Microsoft Outlook
Our organization makes use of Outlook for our email needs. This is because of the amount of flexibility within the various plans that allow us to granularly scale it with our operations as time passes.
Additionally, possessing direct integrations with Microsoft's suite of programs made it an easy choice. With programs such as Word, Excel, Powerpoint, Teams, and more already forming the backbone of our operations, it made sense to utilize the email platform with the most direct out of box integrations with them. The nature of Microsoft 365 also allows these files to be shared seamlessly across team members, improving the flow of operations.
Jonathan Krieger, VP of Sales, Fabuwood
ActiveCampaign
The email marketing platform we use is ActiveCampaign, which has a large number of characteristics that makes it attractive for any company. ActiveCampaign combines the power of email marketing, marketing automation, and CRM/sales automation. You'll be able to create powerful automated sales and marketing processes that scale to create more loyal customers. You can also send exactly what your contacts want. Create newsletters, email campaigns and promotions that connect with your customers. Personalize your communication to offer exactly what they are looking for.
Jessica Luna, Marketing Analyst, Influence Weekly
ConvertKit
I've used dozens of email platforms over the years and ConvertKit is my favorite. They offer powerful tools with an easy-to-use interface. I can create visual automations that connect stunning opt-in forms with different sequences. I can quickly evaluate the quality and engagement of my subscribers. I also appreciate that they've evolved with the industry, offering new tools to help promote sales and monetization.
Nicole Thelin, Founder, Low Income Relief