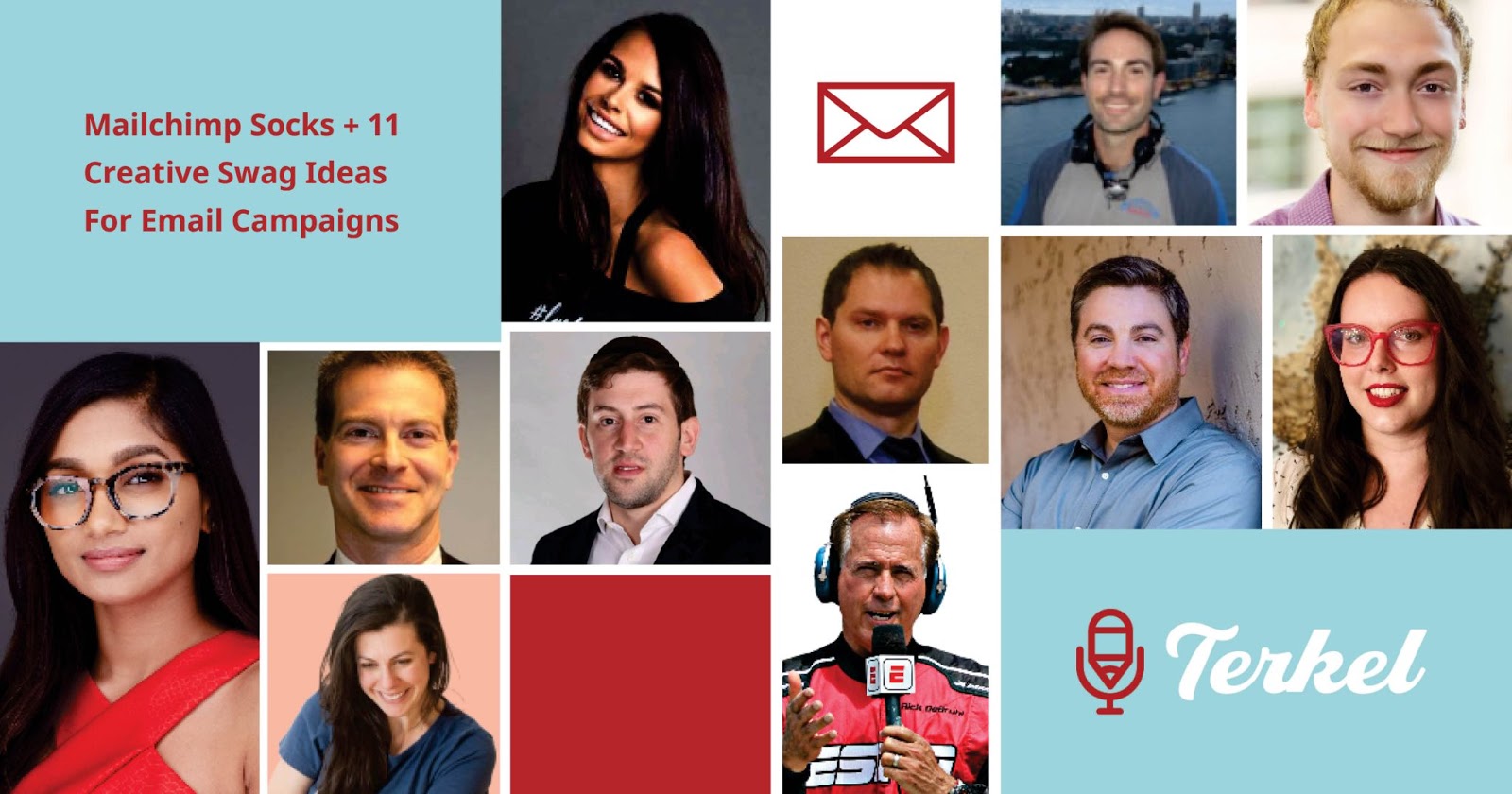 What is the best swag item you have ever given away or received?
To help your company decide on great swag items to give away, we asked PR experts and business leaders this question for their best items. From day planners to headphones, there are several items that may help you find the right swag items for your customers.
Here are 11 great swag items that your company should try:
A Digital Detox Kit
Day Planner
Free Beer + Branded Growlette
Reusable Water Bottles
Sunshade
Industry-related Swag
Company T-shirt
Hangover Kits
Everyday Items
Technology
Headphones
____
A Digital Detox Kit
Mailchimp really cares about their partners, and we've received some pretty amazing swag from them. Besides a new Freddie (which of course is the best swag, in my opinion), my favorite was a beautiful "digital detox" box that Partners received one year during the holidays, complete with everything you need to unplug (freelancers and agency owners probably need that more than anyone!). It was so thoughtful, and I actually used it!
Emily Ryan, Westfield Creative
Day Planner
Lash swag is the best swag! I am obsessed with organization, which is why our Lash Technician Planner is my top pick. It is literally a business in a book with social media planning templates, expense/inventory trackers, and everything in-between. It is much more than swag; it is an incredibly useful planning tool that can revolutionize how lash technicians run their business.
Vanessa Molica, The Lash Professional
Free Beer + Branded Growlette
I'm not even sure if this is legal, but we'd give out free beer to people who visited our office. And not just any beer, but our company branded IPA (Markitors IPA, specially brewed by the creative geniuses at Barrel Brothers Brewing Company). To give away the beer, we'd conclude meetings and office tours with an inevitable question, "want some beer?" We'd take guests to the office keg, fill them up a Markitors branded growlette with our company core values, and pour up a 32 oz growlette to go. I've never seen people leave an office so happy. Today, many people tell me that they still have the Markitors growlette, which gives me a lot of satisfaction knowing that they get some enjoyment out of a swag item that costs us about $1.
Nikitha Lokareddy, Markitors
Reusable Water Bottles
As a professional printer, I am in the business of making "swag items" for several of my clients! I recently worked on a job where the client wanted us to make custom reusable water bottles to hand out to clients and prospects. I thought this was a great idea as water bottles are an item that everyone uses on a daily basis, and it is a great way to spread brand awareness organically. I liked the idea so much that I ended up doing them for my business as well.
Eric Blumenthal, The Print Authority
Sunshade
My favorite swag item I ever received was from my mechanic, and it was a branded sunshade for my car. As an Arizona native, summers can be brutal! I use that sunshade every time I park my car outside, and it keeps it super cool, and it always reminds me to call my mechanic to keep my wheels in tip-top shape.
Brian Greenberg, True Blue Life Insurance
Industry-related Swag
Since we work primarily with dentists, we also receive teeth-related swag at any event or convention we attend. Giving out swag that creatively represents your business or industry is always remembered and appreciated well after it is given out. We always love to receive tooth-shaped pens, note pads, erasers, and more!
Henry Babichenko, DD, Stomadent Dental Lab
Company T-shirt
The best swag item I have received is a company t-shirt from my marketing agency! Not only is the shirt super soft and comfortable, but it also came along with a handwritten letter that made me feel like they really care about my company and me.
Blake Murphey, American Pipeline Solutions
Hangover Kits
For a small business client exhibiting at an event for bar and restaurant owners, we decided to create hangover kits. The night before the panels and floor show opened, attendees had a wild party which most certainly equals hangovers the next morning. We created a kit with the tagline printed on the front of "A Hangover Kit for What Ales Ya" playing on the theme of the event being for the bar and restaurant industry. Attendees flocked to the booth just to get the kits, which contained useful items to help their heads and contained useful marketing about our client. This was a highly influential swag piece and had little expenditure for high reward.
Hana Ruzsa Alanis, Graphic Designer & Marketing Specialist
Everyday Items
To answer this, I just looked at the items I still have, still use, and are well branded. The first is a stylish, high-quality pen that is always on my desk. Not cheap and plastic, and it works very well. The second is a nail file I keep beside my bed. It has the company name boldly printed on the back, so I see it every time I use it. The final item is an insulated tote I keep in my car for groceries. These aren't fancy or high tech, but I see the company's name on a regular basis.
Rick DeBruhl, Communication Consultant
Technology
We're fortunate to work with companies across several industries, including insurance and finance. Outside of venture-based technology companies, some of the best swag comes from the insurance and finance industries. You'll typically see big-ticket items like iPads, MacBook Pros, or actual tickets being given away by these companies. But one creative thing these companies do when giving away a big swag item is to make sure everyone wins. No one likes to go home a loser, so whatever big item is given away, make sure everyone can access the feeling of "winning" in some way.
Eli Patashnik, iFax
Headphones
As crazy as it is to admit, my favorite swag item came from a box of Budweiser. Red Bluetooth headphones that fold up for easy travel and the battery last surprisingly long. From a marketing perspective, a genius at Budweiser added a little feature that makes me smile every time I hear it. When you turn the headphones on, it repeats its tagline, "This Buds for you." Free headphones with basically unlimited marketability. Genius.
Colton De Vos, Resolute TS