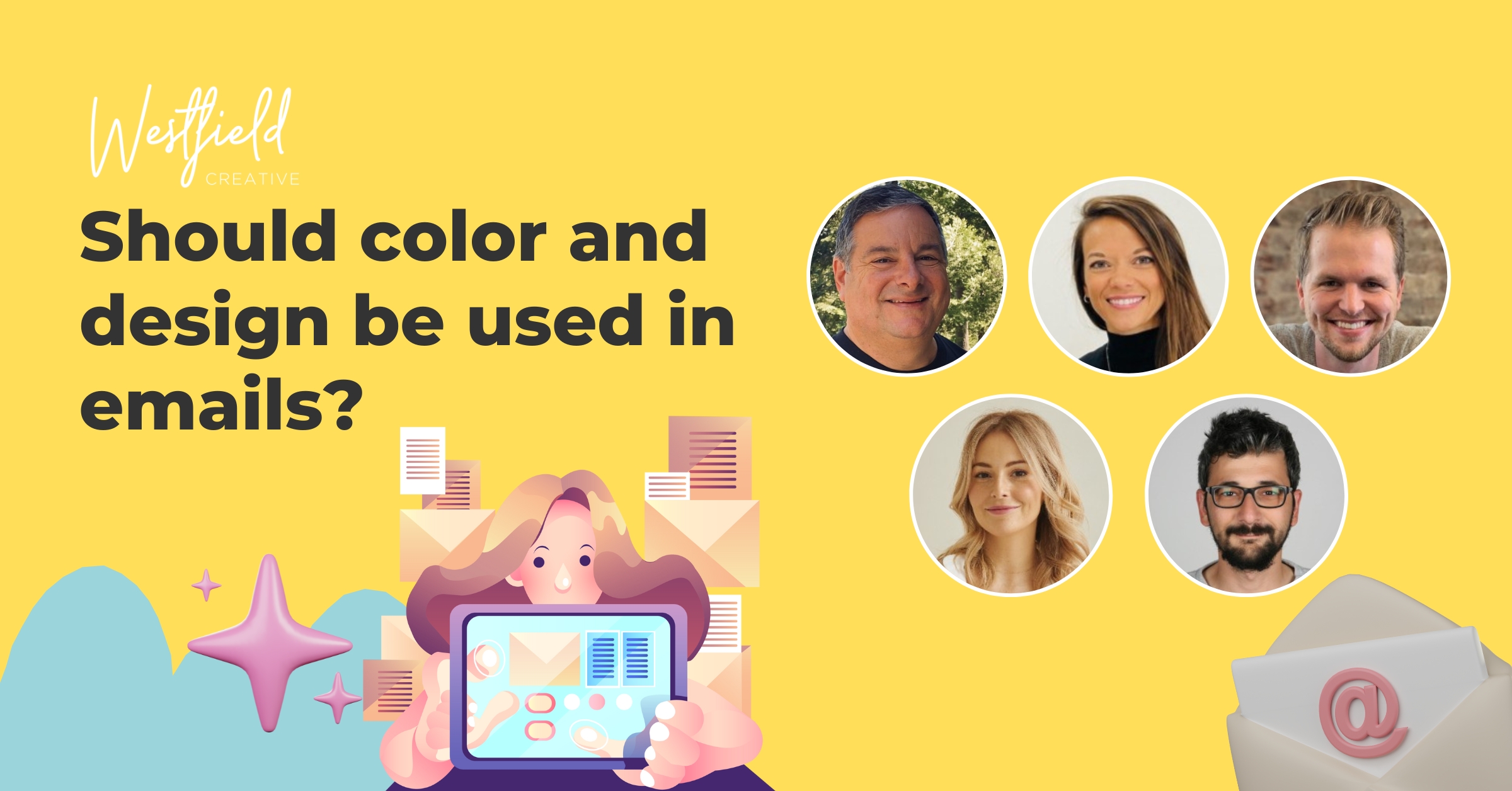 From conducting A/B Tests with your email audiences to a chance of designs causing lower reply rates, here are the 11 answers to the question, "Should color and design be used in email campaigns?"
Build A/B Tests 
Brand Colors and Design Evoke A Sense of Relatability
Prioritize a Relationship With Your Audience
Give Your Message An Eye-catching Look
Keep Graphics to a Minimum
Maintain Campaign Consistency
Use Colors to Attract and Hold Readers' Attention
Intelligent Use of Colors Will Make the Right Info Pop
White is the Only Color All Email Campaigns Should Have
Colors Help Grab Attention
Colors and Designed Emails Have Smaller Reply Rates
Build A/B Tests
The only way that you can know what will jive best for your unique audience is by testing things. Choose an email marketing platform that allows you to build A/B tests. If your current email platform offers this, don't be afraid to experiment with this feature, which will have a campaign monitor in place to reveal the winning strategy. Performing A/B tests has informed pretty much every part of my brand's email marketing strategy. The insights we've gained are priceless.
Michael Green, Co-Founder, Winona
Brand Colors and Design Evoke A Sense of Relatability
Sending a simple email for communication only is different from running an email campaign for your product, service, etc. As a result of our own study, we performed A/B testing for email subject lines and found that emails with relevant emoticons had a 50% higher open rate than emails without.
A brand's colors and design evoke emotions and a sense of relatability. Some brands, like Nike and Adidas, use templates with very little text in their email campaigns. The heart of effective marketing is color and design. Color accounts for between 62 and 90% of the impression your product creates. It is therefore necessary to have a cohesive brand message across all marketing channels. The right choice of colors and design makes a difference because they trigger associations.
At our company, we have run a ton of email campaigns with and without the color and design element and I can confidently say that color and design performs way better than text-only emails.
Simon Dayne, Sales Associate, Designitic
Prioritize a Relationship With Your Audience
Marketing is changing fast. It's harder and harder to break through the noise. The more you can establish a real relationship with your audience the better – and it's easier to do that with a simple email than with an overly designed "newsletter".

Because of this, we have seen great results when moving brands from an overly designed newsletter template to a simple email from the business owners.

Ultimately, whether you use color and design in your email campaigns will depend on your audience's expectations. So experiment, and see what works for your business.
Frank Prendergast, Brand Strategist, Frank and Marci
Give Your Message An Eye-catching Look
Regarding email campaigns, color and design make a big difference. Not only do they help draw attention to your email, but they can also be used to convey the main message. Color can help add interest and emotion to an email that might otherwise seem dull or boring. Design elements like fonts and graphics can help further emphasize the message and give it an eye-catching look.

However, there are also some negatives to consider. If the colors and design elements are too bright or loud, it can distract readers and take away from the message. On the other hand, if the design is too basic or plain, it may not be enough to grab people's attention. It is important to strike a good balance between eye-catching and appropriate when it comes to email campaign design.

Color and design can effectively make email campaigns more engaging and impactful. Used properly, they can create an email that is visually appealing and conveys the email's main message in a clear and concise way.
Natalia Grajcar, Co-Founder, Natu.Care
Keep Graphics to a Minimum
Logos ought to be used in an email. Think of it as email stationery. Putting that banner or that logo at the top of an email and at the bottom where you state your name and company information is the very least you can do. In fact, if that's all you do, that's perfectly fine.
Try not to go overboard with color and graphics. Try not to use interactive emojis or memes or an overabundance of videos and photos to grab the email recipient's attention. Too much of that can actually look unprofessional – or worse, desperate.
Less is more. Do just enough that it isn't too bland, but err on the side of restraint. That's a good rule of thumb when it comes to email marketing. You want to give off the impression that you're a reputable, authoritative brand. You won't achieve that if your emails are too reliant on visual gimmicks.
Emily Saunders, Chief Revenue Officer, eLuxury
Maintain Campaign Consistency
Color and design should certainly be used in email campaigns in order to be more aesthetically pleasing and attractive to your customers. However, use color and design according to your brand style and aesthetic to ensure consistency across your marketing efforts. Your email campaigns, social media, website, blog, etc., should all use similar colors and designs to maintain this consistency.
Nabiha Akhtar, CEO/Founder, Lil Deenies
Use Colors to Attract and Hold Readers' Attention
The impact of colors has been a topic of academic research for decades. Color and design can be powerful when used in email campaigns, as they can help evoke certain emotions in recipients and encourage them to take action.
A study found that color can attract and hold readers' attention. With the right color, an email campaign can drive more engagement, generate more leads and help the brand stand out from competitors. However, it's important to remember that color should be used judiciously not to distract readers from the message. Too much color can be overwhelming and less effective.
Burak Özdemir, Founder, Online Alarm Kur
Intelligent Use of Colors Will Make the Right Info Pop
Using colors is a great idea to help make your emails pop, but selecting muted and complimentary colors is essential in creating balance and harmony within the visual aesthetic of your email. Using too many bright, contrasting colors can make it difficult to read and can diminish the effectiveness of your campaign. Additionally, if you are not careful with the color scheme you choose, it can come off as amateurish and unprofessional. All in all, color is a great way to add visual appeal to your emails when done in good taste.
Ryan Delk, CEO, Primer
White is The Only Color All Email Campaigns Should Have
The colors you use in your email campaign will depend on the demographics and interests of your audience. An email campaign marketed to a 40-year-old woman will be different than that of an 18-year-old male.

The one color that all emails will need is white. Why? Because it is easy to read. Putting black fonts on a white background or white fonts on any color background is what you need for people to read your content without straining their eyes.
Jason Vaught, Director of Content, SmashBrand
Colors Help Grab Attention
If your goal is to create an email campaign that stands out and gets noticed, then incorporating color and design is a must. People are bombarded with emails every day, so it's essential to make yours stand out in their inboxes.

Adding a pop of color or an eye-catching design will help grab attention and ensure your message is seen. However, using color and design sparingly is important, as too much can be overwhelming and actually turn people off. When used sparingly and thoughtfully, color and design can be powerful tools for creating an email campaign that gets results.
Tom Hamilton-Stubber, Managing Director, Tutor Cruncher
Colored and Designed Emails Have Smaller Reply Rates
In my experience both colored and designed nurturing emails have a much smaller reply rate. Nowadays people are getting a bit tired of their mailboxes full of automated emails and appreciate personal communication. The reason for not using email templates with colors and designs is to make an automated nurturing email mimic an email from a real person.
Andrei Iunisov, Digital marketing expert, Iunisov.com