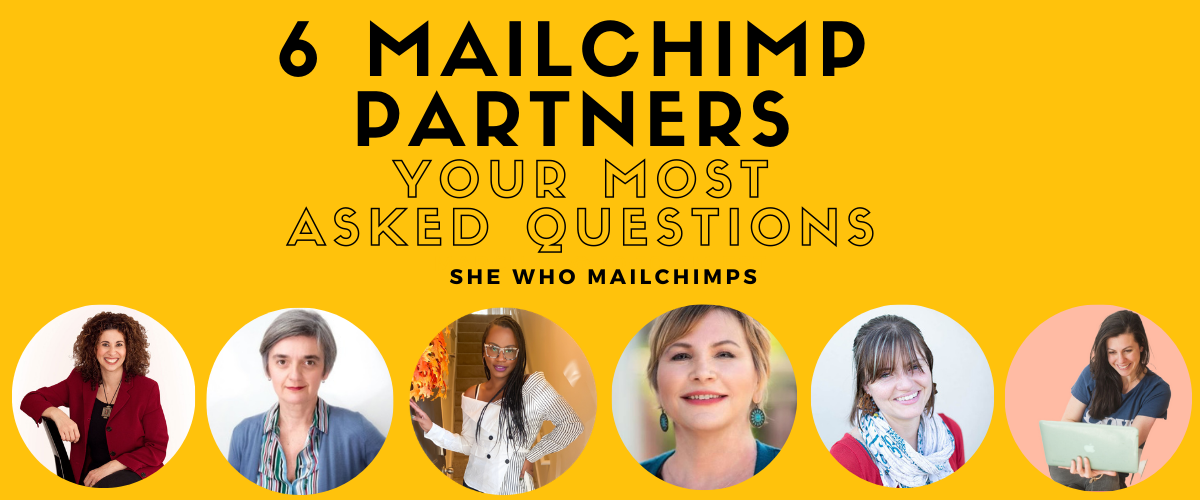 What happens when you get 6 Mailchimp Women Experts (and Mailchimp Partners) in one Zoom room for an hour? You get some awesome email marketing advice and also an hour of fun. I was thrilled to have 5 super-smart email marketing minds join me to answer some of the most asked Mailchimp and email questions we get – including "what's the best time/day to send an email?" "what's our favorite Mailchimp hidden egg?" and much more.
We recently asked a few Mailchimp Partners, including some from the live event about their top takeaways were from the session. Here's a great rundown in case you missed it. Want to watch the replay? You can here.
---
I loved the relaxed format. The hosts were having an open conversation, which felt very honest and welcoming. There were loads of takeaways points, the honest discussion around the way these Mailchimp partners actually use Mailchimp themselves was enlightening and I made a lot of notes! You can watch the event right here: https://youtu.be/KJpAuJP-WAU
-Doug Dennison, CEO & Co-founder, MailNinja
---
The talent that was on display at the She Who Mailchimps event was ridiculously good. It was an interactive webinar with a live Q&A where the super-talented panel answered lots of questions about Mailchimp and email marketing in general. With their Mailchimp expertise, they were able to share a lot of great information.
Top takeaways included:
1) Use Mailchimp Partners to help you with any Mailchimp issues
2) Consider using ALL the Mailchimp features including landing pages, postcards, social posts, link-checker, and more.
3) Test, test, and test some more. Conduct subject line testing, content testing, send time optimization, etc. to learn what resonates best with your audience.
-Adam Holden-Bache, Dir. of Email Marketing, Enventys Partners
---
Holy moly, the brains! I didn't add it up, but there were probably over 60 years of email marketing experience on that panel. And while for some questions, the answers were similar, everyone had their own spin and just a little different way of looking at things. It was great to get all the email philosophies together in one place and see how they're similar and so utterly different at the same time. The nuances in the differences were the gold.
-Amy Hall, Email Marketing Strategist and Certified Mailchimp Partner, amyhall.biz
---
This was the very first time I did a workshop in English, and the days before I was pretty scared about it; but the other ladies were so nice and supportive that I thought oh, what the hell, I can do it! Apart from that, the idea was great and I think the whole formula worked very well: good timing, a balanced distribution of questions, and a bunch of super-expert ladies all willing to share their knowledge. Being part of this network, finding ways to collaborate and learn from each other, is one of the perks of Mailchimp & Co., and I value it immensely.
-Alessandra Farabegoli, Digital Strategist, www.alessandrafarabegoli.it
---
My office needs much better lighting, and Sequoia Mulgrave has a second career as a broadcaster if she ever opts for it! That said, the talent available in the Mailchimp Experts Directory is something anyone serious about their business or email marketing should tap into. I'm truly impressed with the knowledge of each of these women and would be happy to have them as part of my team, or my own marketing department! If you haven't watched the recording, reach out to Emily Ryan to get access.
-MaryAnn Pfeiffer, Digital Marketing Strategist, 108 Degrees Digital Marketing
---
1. There are some very knowledgeable email experts out there… and if you don't tap into that knowledge, you're losing out.
2. Being a marketer, this is always at the forefront of my mind, but being clear on your who and how it impacts the best way to approach email marketing was worth reminding – anecdotally there are good times to send and bad times to send an email, but it all depends on the who – the who you are sending to.
-Robin Adams, Founder, Chimp Answers
---